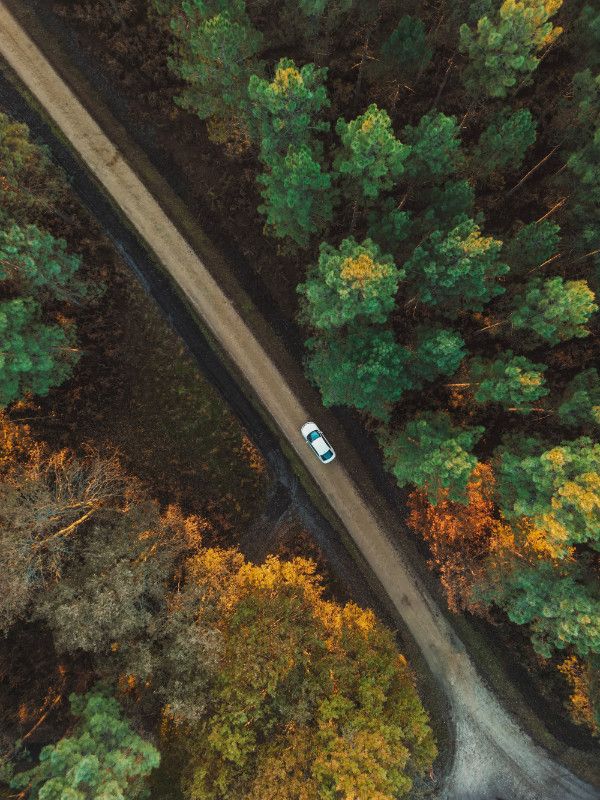 Great business review of 2022 for Mindsers Blog
This post is free for all to read thanks to the investment Mindsers Club members have made in our independent publication. If this work is meaningful to you, I invite you to join the club today.
The year is coming to an end and it's time to take stock of all our hard work, to see what worked well or not before making decisions for next year. I am going in this article to comply with the exercise. Hope you learn as much as I do!
During 2022, we tested a lot of new things including the store for merchandise and additional content, but also a new format for the newsletter, etc. We will focus on each of these different facets of Mindsers Blog to structure the article.
Mindsers Codes
@MindsersCodes or @mindsers.codes is the name I use on social media when talking about tech. The ultimate goal of these public accounts being to redirect readers to the blog, we will see their evolution in this article.
The number of followers is the first indicator that we look at on a social account. Here are my numbers:
Twitter: 577 followers
Instagram: 12,300 followers
Twitch: 213 followers
If we look at the curve for Instagram in particular, we see that the year 2022 has been superb.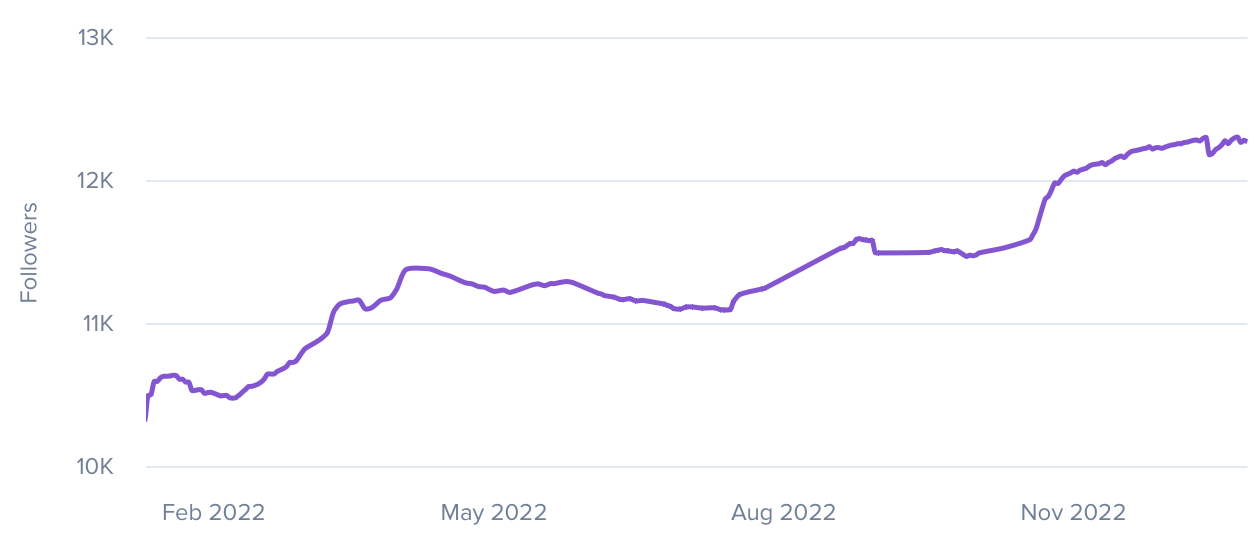 There has been an increase of about 45% in the size of my community on social networks. Which impresses me a lot.
But, the number of followers is not everything! One of the points on which I have worked a lot this year is the authenticity of these 13,000 followers.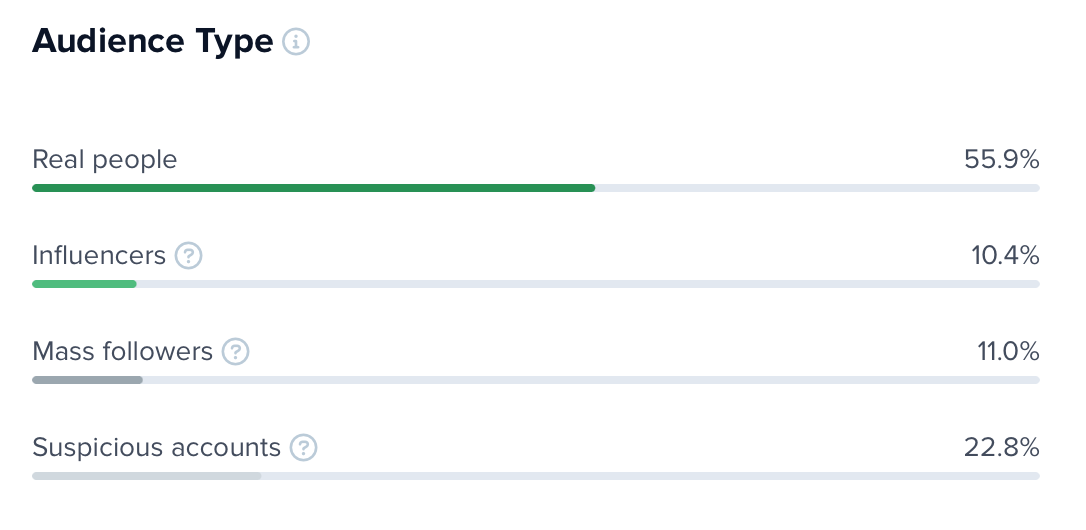 The "Real people" who represent 55% of the 13,000 followers are the most important. These are the followers who are not influencers, bots, etc. These are the ones I would like to redirect to the blog and the ones brands want to target when I accept collaborations.
The group of "Influencers" who follow me is also in green on the chart, since:
they are also real people
the fact that they follow me acts as social proof: peer validation.
On the other hand, if the bulk of the followers are influencers, then this can cause problems. Influencers are there to sell things, not buy. They are less easy to convert and not the target of brands.
"Suspicious accounts" are those that we absolutely do not want to have. These are bot accounts, accounts that violate social media policies, etc. Often, therefore, these accounts are not real people. Having a lot tarnished the reputation of our account with brands but, more seriously, can encourage the social network to apply restrictions on our account.
"Mass followers" are followers who follow more than 1,500 accounts. In itself, it does not seem grave. However, two things prevent these followers from being classified as "Real people":
with so many accounts followed, there is very little chance that they will see the content I post (not good for me nor brands)
these are often accounts used by follower buying services
At best, they serve no purpose besides screwing up my engagement rate, and at worst they are still accounts that break social media rules.
🧑‍🏫
When I say this is one of the points that I have worked on the most, I mean that I have been careful to remove as many "Mass followers" and "Suspicious account" as possible. So, I am glad that despite these deletions in spades, my number of followers has still increased by more than 40%.
Speaking of engagement rate, here is mine: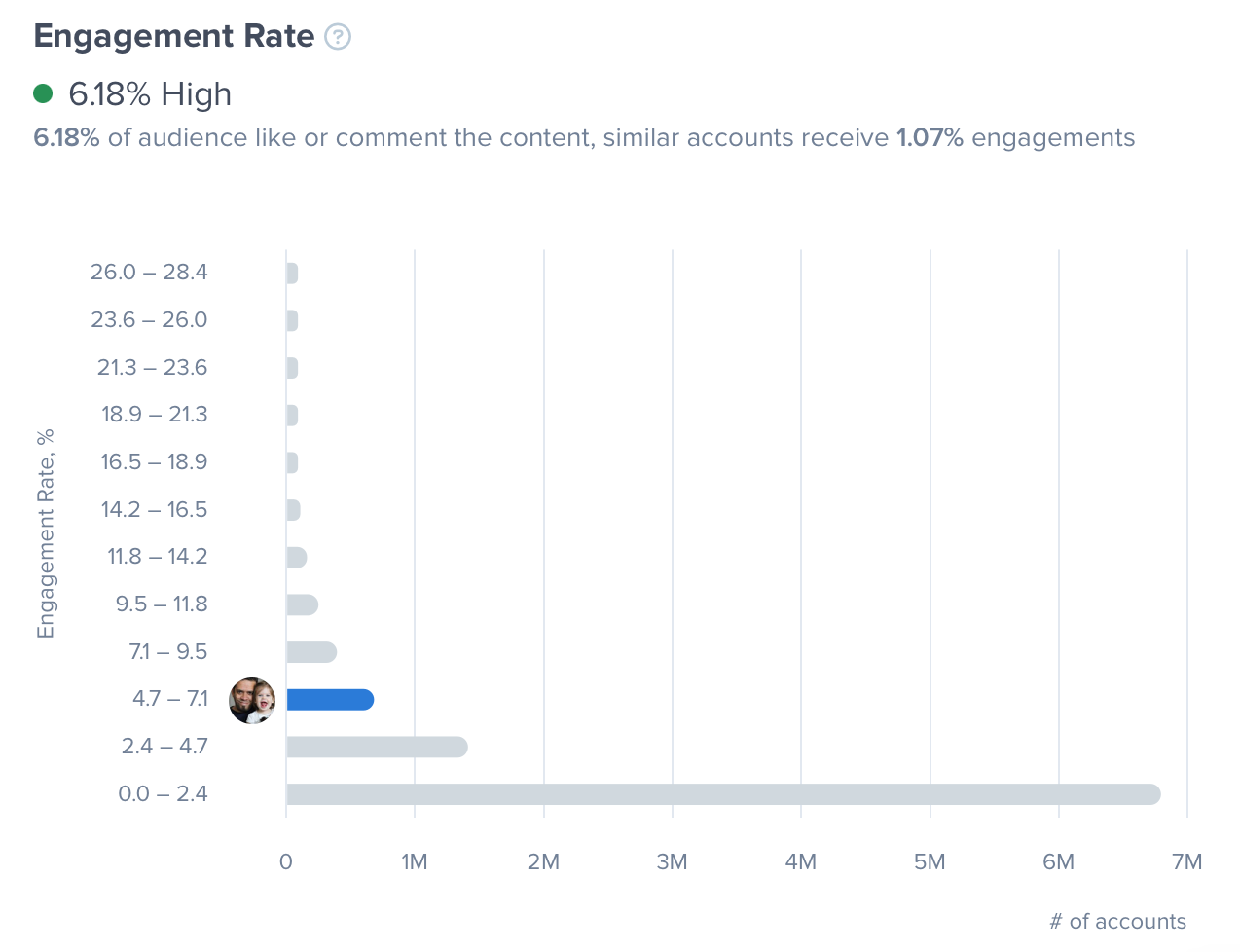 The engagement rate is critical. It is he, more than the number of followers, which will affect the price of a collaboration with a brand, or the quantity of visitors that I can hope to have on my blog thanks to social networks.
Clearly, my engagement rate has dropped from last year when it was 11%. But as shown on the chart above, given the number of followers I have, I should have around 1% engagement rate. The current 6% therefore remains excellent. We just have to hope that it does not fall again by 2025!
Last thing I wanted to share with you in relation to my social networks (more because it's a subject of pride for me than because it's related to the blog), are the brand partnerships signed during 2022. We have signed 6 brand partnerships this year, some of which with prestigious brands (AWS, Formula 1, Rapyd, BenQ, etc.).
Mindsers Blog
What about the blog itself? The blog is the heart, the most important part, of this entrepreneurial project. Even though the amounts earned on the blog may seem very low compared to partnerships with brands on social networks, it was designed to bring in more stable and regular income. A solid foundation for any business.
Has the blog progressed in the year 2022? Yes.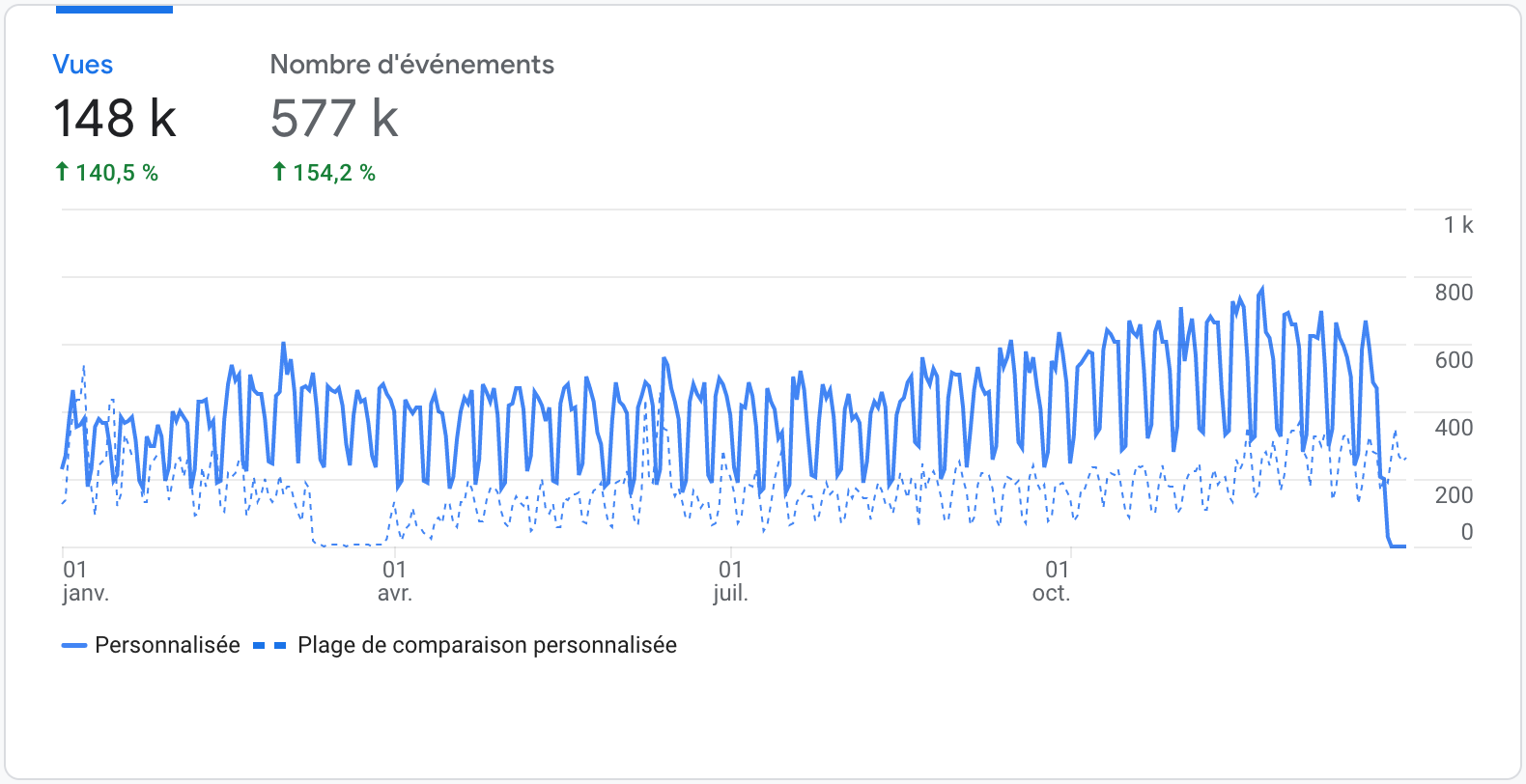 We start with this beautiful chart of page views on the blog since January 1, 2022. I don't even know what to say, I'm so impressed.
The blog absolutely did better than last year in terms of visits. On the other hand, the 140% increase is to be taken with a grain of salt because of this 1-month period when the blog was down with April 2021. Do you remember? OVH was set on fire.
These 148,000 views were made by 99,000 unique users.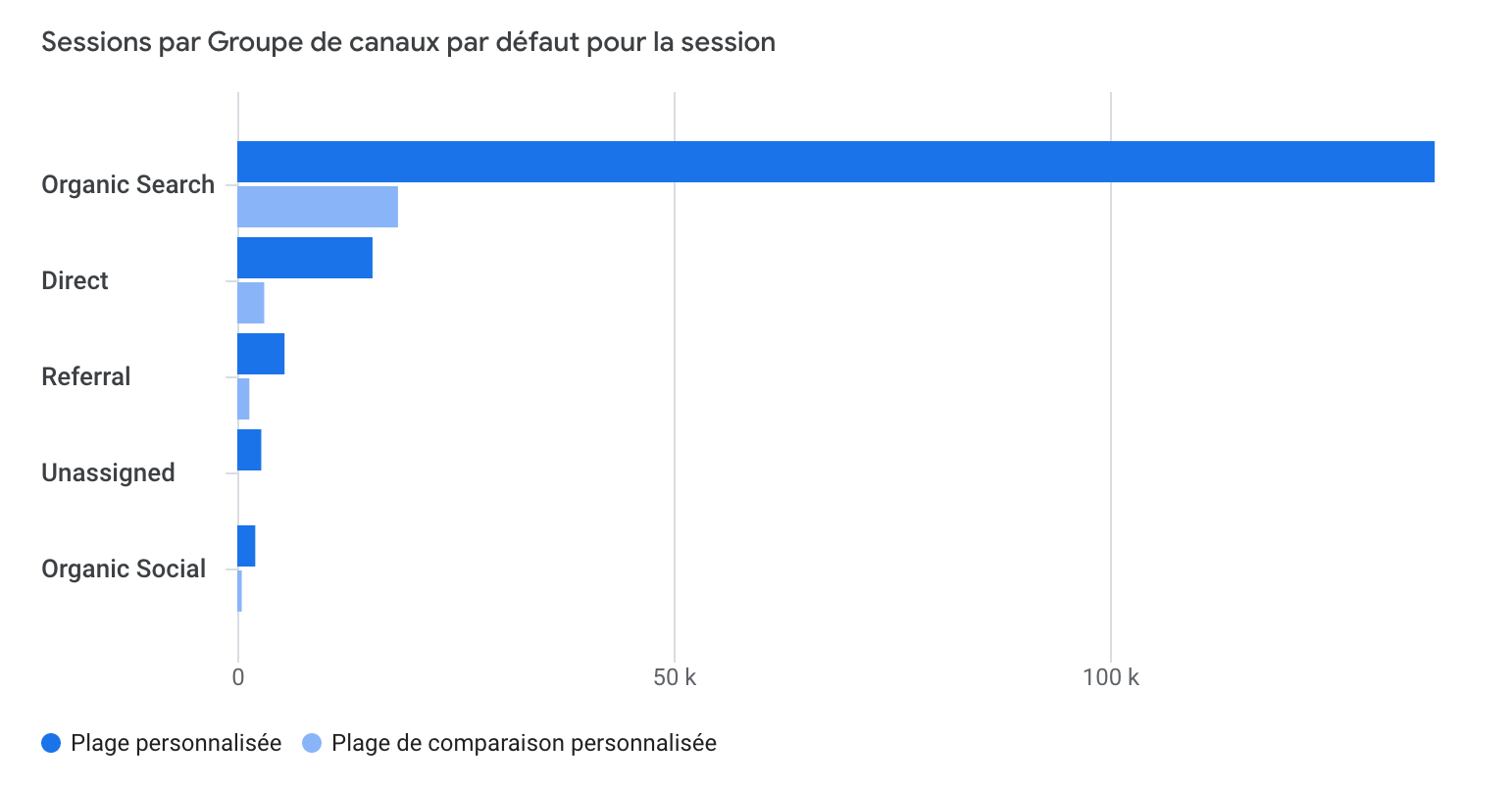 If you were wondering where these views come from, the answer is unquestionably, search engines. I don't know if someone needed proof of the usefulness of SEO in a web project, but there is no photo.
The data shown in dark blue is from 2022 and in light blue is from 2021. This is very satisfying for me to watch, as it is the tangible result of the work I did on the blog SEO in 2022.
I note, however, that the second and third places of the podium are held by those who saved the link of the blog somewhere (favorites, RSS reader, etc.) and those come from other sites/blog thanks to links to my site.
Traffic from social networks was dead last this year.
We do not see them on this graph, but there are also all the views generated by members registered on the blog: the mailing list. I'm talking about everyone who signed up to receive blog updates by email, enjoying private content and missing out on any new posts.

As we see on the previous graph, there is a very regular supply of new entries. This is excellent news for the blog, as subscribers to the mailing list can be considered the blog's most engaged readers.

If you remember the figures quoted earlier, on social networks, we have an engagement rate deemed exceptional for the size of our audience: 5%. Regarding registered members of the blog, the engagement rate would be around 56%.
If the Mindsers Blog project is to succeed, I must grow this part of my community. Next year, more than the number of followers, the number of blog members could be decisive.
However, there are only 169 members at the time of writing these lines. We should be on much larger numbers:

There are several reasons for this. First, in 2022, I cleaned up the blog's membership list. I deleted a lot of inactive account created in the beginnings of the blog, when it was not yet the "Mindsers Blog".
Except for paid accounts that should always have access to their unlocked content, I plan regularly to remove any that have been inactive for a long time. Already to respect the GDPR law, but also to have a healthy reader base on which I can build (make decisions) and communicate.
A reader who no longer wishes to receive email from the Mindsers Blog and has not logged in to their account for over a year should not appear in the list of blog members. His account is no longer useful—neither to him nor to me—even though he continues to read the articles.
In fact, he becomes an anonymous reader of the blog again, which is fine by me.

What is MRR? It is an acronym for "Monthly Recurring Revenue". To put it simply, what the blog generates as income on average every month.
I say average because this number also includes annual subscriptions reduced to the month. What is sent to my company's account is therefore not exactly that.
16 euros of income per month. It doesn't seem like much (and it isn't much) but it's massive progress considering that a year ago we were at 0 euros in income.
Clarification. This number concerns only the B2C, that is to say the members of the blog and not the B2B, the brands and company with which I work.
This year, the blog generated around 400 euros in B2B contract. We are only talking here about sponsored articles and guest posting. No advertising exists on Mindsers Blog.
That is a total of 520 euros over the year, B2B + B2C. More than any other year.
Mindsers Blog Insider
I voluntarily separated the newsletter from the blog since this paid offer was thought to be complementary, but independent of the blog.
The idea is to provide readers who wanted to know more about Mindsers Blog with access to blog statistics, the latest project news, community interviews, more pro advice on code and business, etc. Lots of additional content to further increase the value of the blog for these readers.

Except that the idea doesn't work out. In the two years that the newsletter has existed, we have six readers. There have been no changes in the past three months.
The blog newsletter is probably one of the contents that takes me the most time to produce. It is already constraining in the sense that I have to have the statistics to be able to write on it. But, in addition, it requires research time to produce content with learnings (from the data) and useful advice for readers.
Despite the effort required for its production, I would say that this newsletter does not meet with the success it deserves. Or seen otherwise, I would say that after two years of work and after a first pivot in strategy and content, the results are clearly not worth the effort and time invested.
So, I decided to stop the newsletter in 2023. Fortunately, the newsletter was only one of the advantages of the paid subscription. I won't say more about the blog's projects (because that's not the subject of this article), but members won't be prejudiced.
🙆‍♂️ The figures shared in the first issues of the newsletter 🙆‍♂️
By rereading the archives of the newsletter, I found the figures that I shared there in one of the first issues:
Instagram: 3 702 followers
Twitter: 526 followers, 0 super-follower
GitHub: 57 followers, 0 sponsors
Twitch: 141 followers, 14 subscribers
Blog: 200 page views / day, 87 members including 0 paying member
Patreon: 2 contributors
LinkedIn: 608 followers
Facebook: 137 followers
To see how far we've come since, here are the figures for 2022:
Instagram: 12 300 followers
Twitter: 577 followers, 0 super-follower
GitHub: 70 followers, 2 sponsors
Twitch: 213 followers, 0 subscribers
Blog: 405 page views / day, 169 members including 6 paying members
Patreon: 0 contributors
LinkedIn: 692 followers
Facebook: 145 followers
We haven't progressed everywhere. But we made good progress!
Mindsers Shop
During the year, I launched the blog store. The idea was to provide a place where the reader could access additional content without needing to subscribe. He could therefore buy the content he wants individually. It was also an opportunity to offer merch to the community.
Mindsers Shop is the store of Mindsers Blog. Basic. Simple.

I note that there has been an interest in the shop. It's good news. But, frankly, I did not know how to transform this interest into a sale.
1369 visitors, that's good for a site that didn't exist six months ago. So, I think there's a way to get something out of it, and if the blog subscriptions can't pay for the servers, I'm hopeful the store will.
But for that, I have to manage to break the secret of the conversion rate. My first intuition was to offer educational content, developer merch and t-shirts, but apparently that's not the right fit.
So, I will test other approaches next year and let you know the results.

Many visitors come to the store from the blog, but also from social networks. As this is still the beginning of the store, the SEO does not work at all.

I also note that the top-selling product type is merch and not educational content or developer t-shirts. Maybe data to consider for the future?
---
In conclusion, I would say that the year 2022 has been a bit of a crazy year where I have seen my blog and my social networks take off compared to previous years. They will nevertheless have to fly a little higher in the years to come so that I can calmly live off them.
This is also the year in which I note the bitter failure of the newsletter. I stop the charges. Who knows if in a few years, I will not come back with a new newsletter? But, meanwhile, I will rather put my efforts on the blog shop which has already brought in more in a quarter of the time.
Join 250+ developers and get notified every month about new content on the blog.
No spam ever. Unsubscribe in a single click at any time.
If you have any questions or advices, please create a comment below! I'll be really glad to read you. Also if you like this post, don't forget to share it with your friends. It helps a lot!