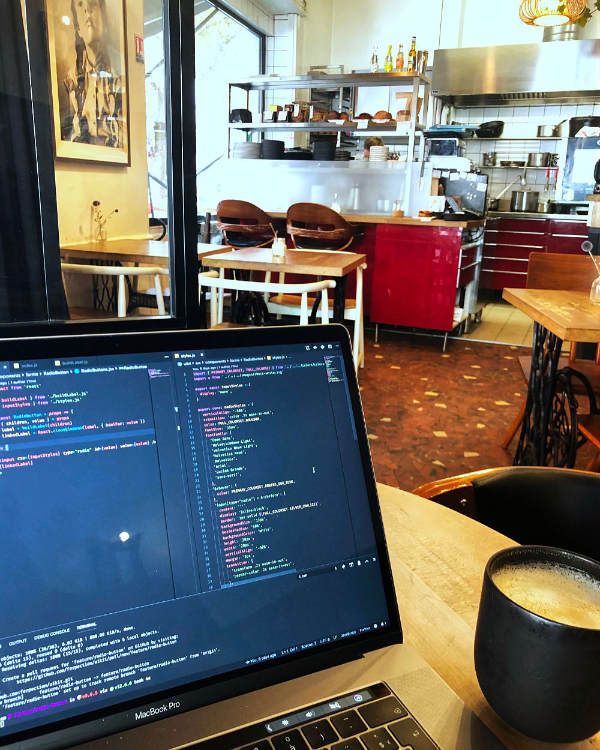 Coding in peace with a full belly at Le Kitchen Café
This post is free for all to read thanks to the investment Mindsers Club members have made in our independent publication. If this work is meaningful to you, I invite you to join the club today.
For the first post of the serie, I wanted to take you to a nice, simple, very cute coffeeshop: Le Kitchen Café. If you like to work in cosy places where good food is served, then you are going to like Le Kitchen Café.
Le Kitchen Café
34 rue Chevreul
69007 Lyon
France
I went to work there on a Thursday morning around 8:30-9:00 am. It is a coffeeshop, not a coworking space so the opening is not VERY early.
Doors open exactly at 8:00 a.m. on Mondays, Thrusdays and Fridays, 8:30 a.m. on weekends.
First impressions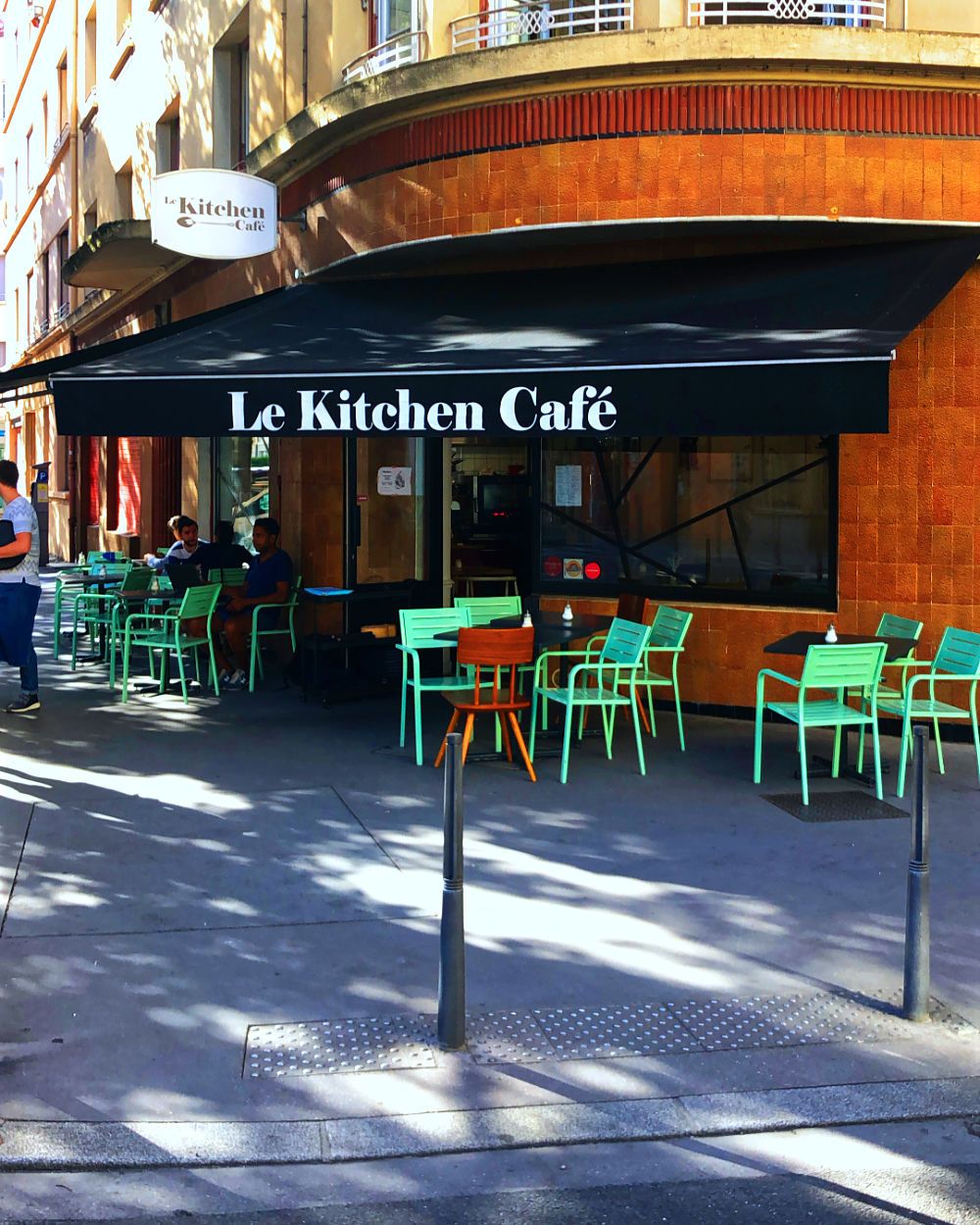 One of the first thing I saw when I arrived was the two other people working on their computers, sipping their caffeinated drinks.
Kinda bummed I wasn't the first one to come but that is always a good sign. Other people (maybe even developers) think it is a good place to work !
Looking through the big windows, one thing that struck me was the size of the place. It is tiny, I guess about 16 seated places inside. This also explains why they put tables outside. It is very pleasing to eat breakfast outside on summer days.
The size didn't bother me for long though, once seated I didn't not feel like we were all on top of each other. I actually feel like the small space makes it really cosy and warm.
Decor & atmosphere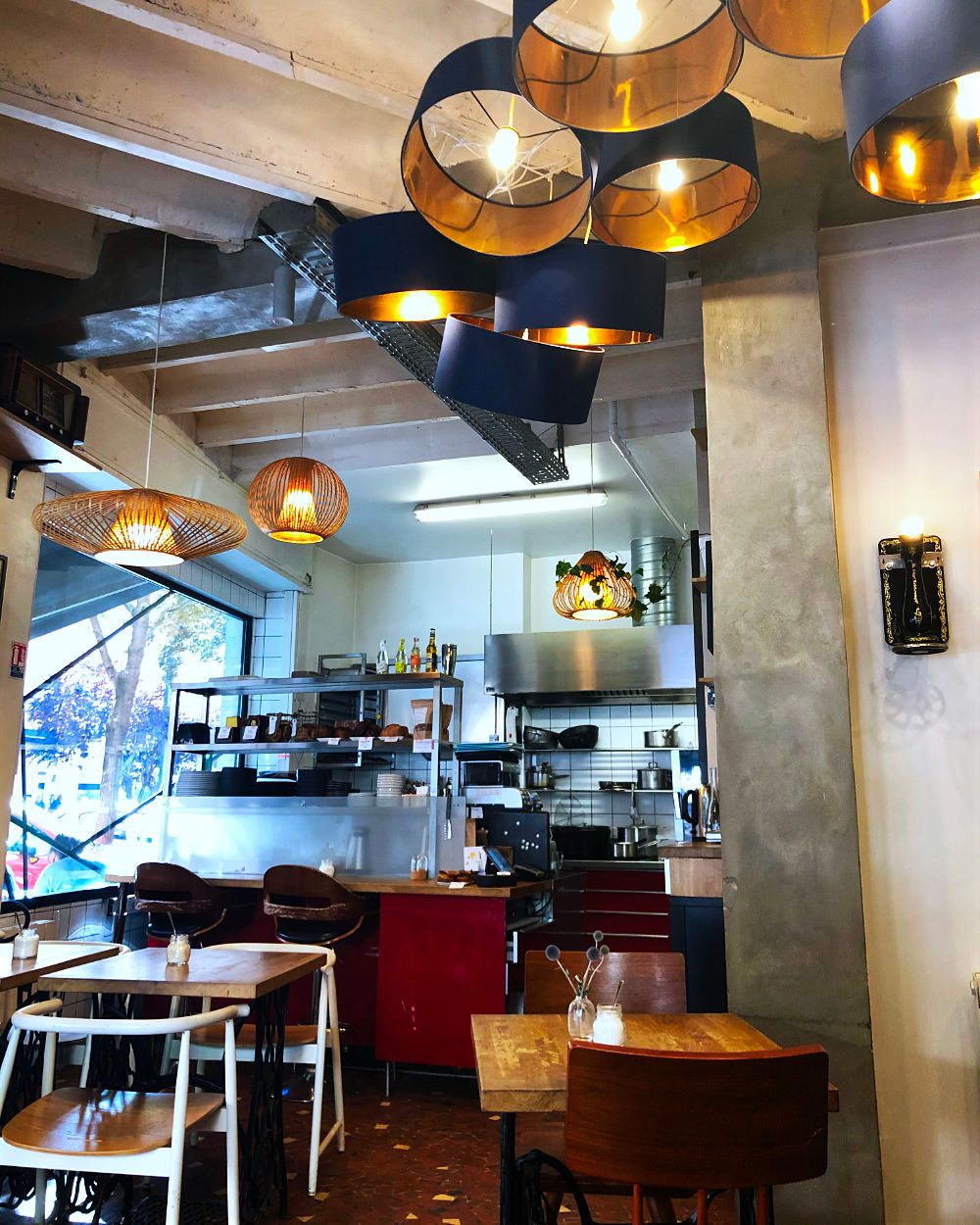 The design of the place is made of some rough walls, some painted, mismatched chairs, a lot of different lightbulbs, recycled furnitures, dried flowers and antiques. If you read that, you might not think it would work creating a great space. However, the owners succeeded in making this coffeeshop, in the center of Lyon, a beautiful and bright place using recycled and secondhand materials.
I personally loved the design and atmosphere of the space because of the strong values that it holds. Values of the owners most definitely: high quality, high standard, handmade. Sort of like an "artisan" style that I absolutely love being an adept of software craftsmanship.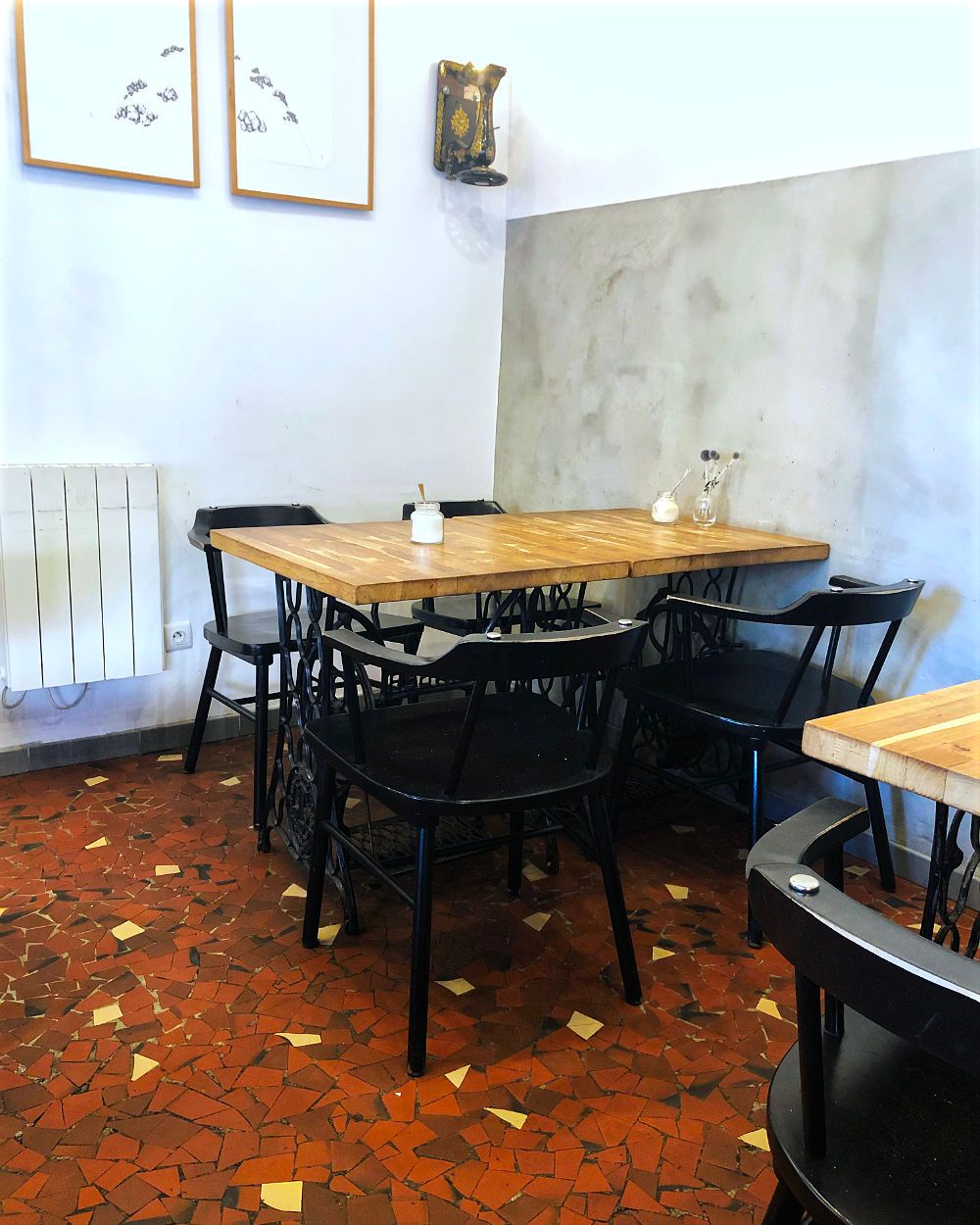 Of course, because everything is so different, there are imperfections. You can see that in the decor choice:
tables (outside and inside) are almost all the same but there are 4 to 5 different styles of chairs.
lights are also very different in shape and colors but it seems it is organized by function or zone. The wall brackets are all the same, table top lights are the same... etc.
There is a real feeling of authentic that I love. It's like a way of saying this business is owned by humans, not machines. Just like you could read: "Here you'll always eat something good but it won't taste exactly the same everyday".
I don't know if you noticed on the photo but the sewing theme (yet another handmade craft) is omnipresent in the decor. The table legs are parts of sewing machines as well the wall brackets. Remember how I said they like recycling!
Food & beverages
To work in a coffeshop, you have to order something. Well given the fact that we, as developer, consume a lot of coffee/tea/whatever else, it shouldn't be too dragging.
That day I ordered a Chai Latte (3,90€) on the menu. It was delicious, not too sweet. You could really taste the milk and the tea.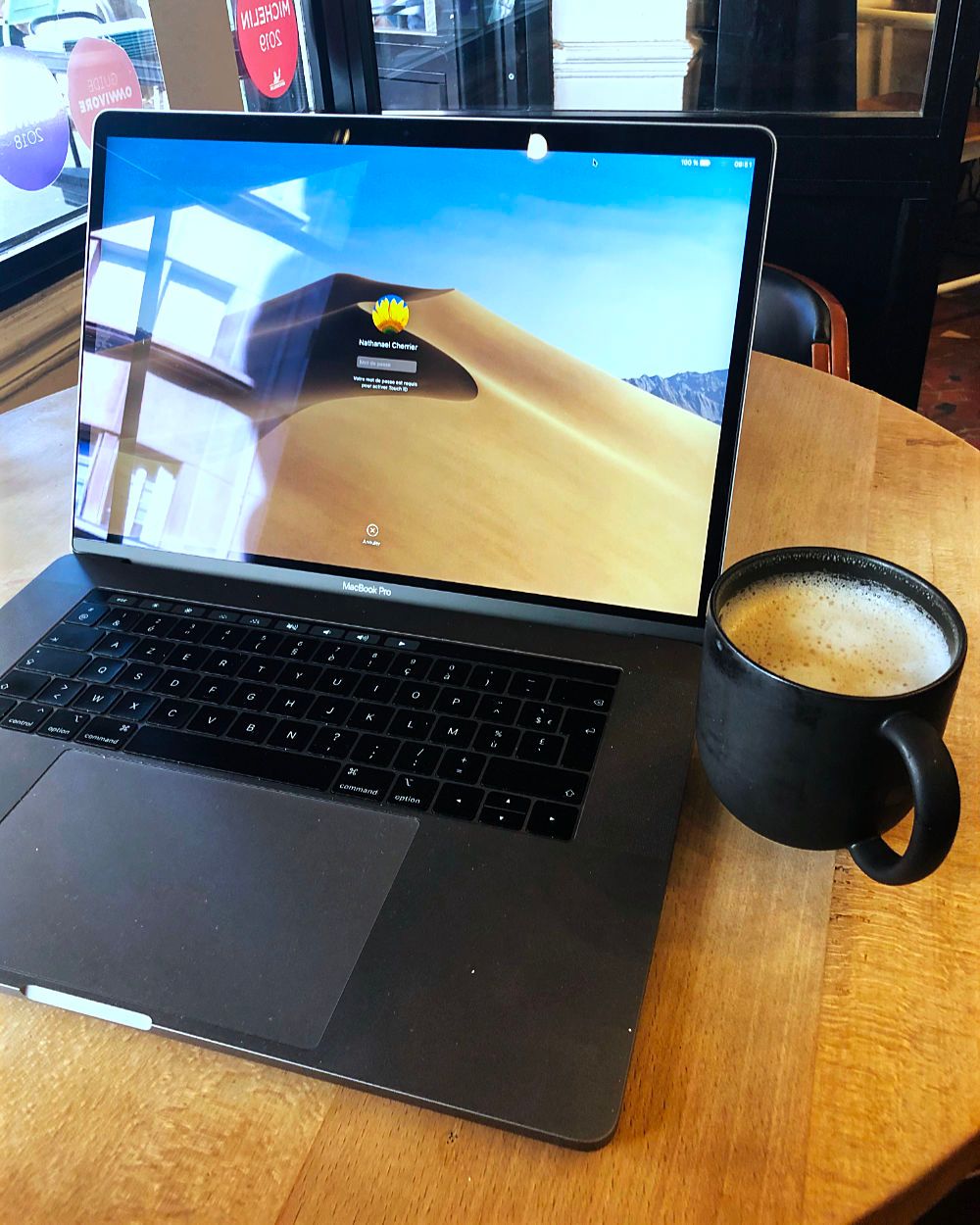 The beverages choice is very wide. You'll be sure to find something you like : juice, coffee, tea, veggie stocks, herbal tea, etc. Homemade drinks are indicated on the menu.
You can get a drink for as little as 1.60€ for an espresso and up until 4.50€ for homemade hot chocolate.
I love savory breakfasts. Unfortunately, there are only sweet combo for breakfast at Le Kitchen Café :
A large coffee + a pastry 3,90€
A granola bowl with fresh seasonal fruits, mountain honey and raw milk cottage cheese + a coffee 5.5€
A pastry + granola bowl + a hot drink + a juice 11.80€
For my great pleasure, the waiter immediately offered me to order a savory plate instead of a breakfast combo.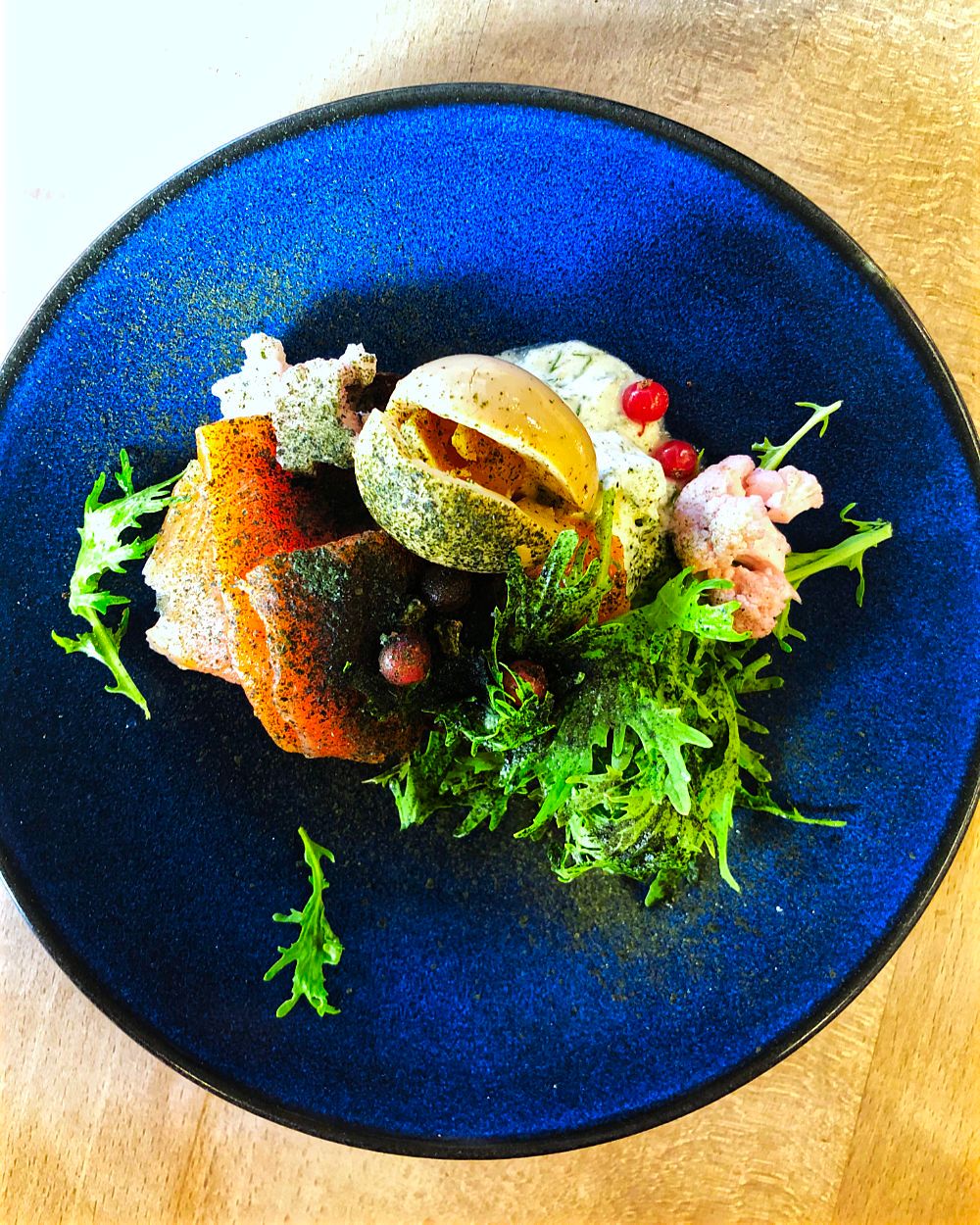 I chose a delicious plate with trout and toasted brioche. Heaven in a plate. The exact name of the dish is "Soy marinated egg & toasted brioche, gravlax Alps' trout, dill cream and picked veggies" 9.50€.
I could litterally have that for breakfast every morning and not complain!
The code
Yeah, I was here to work so let's not forget about that too.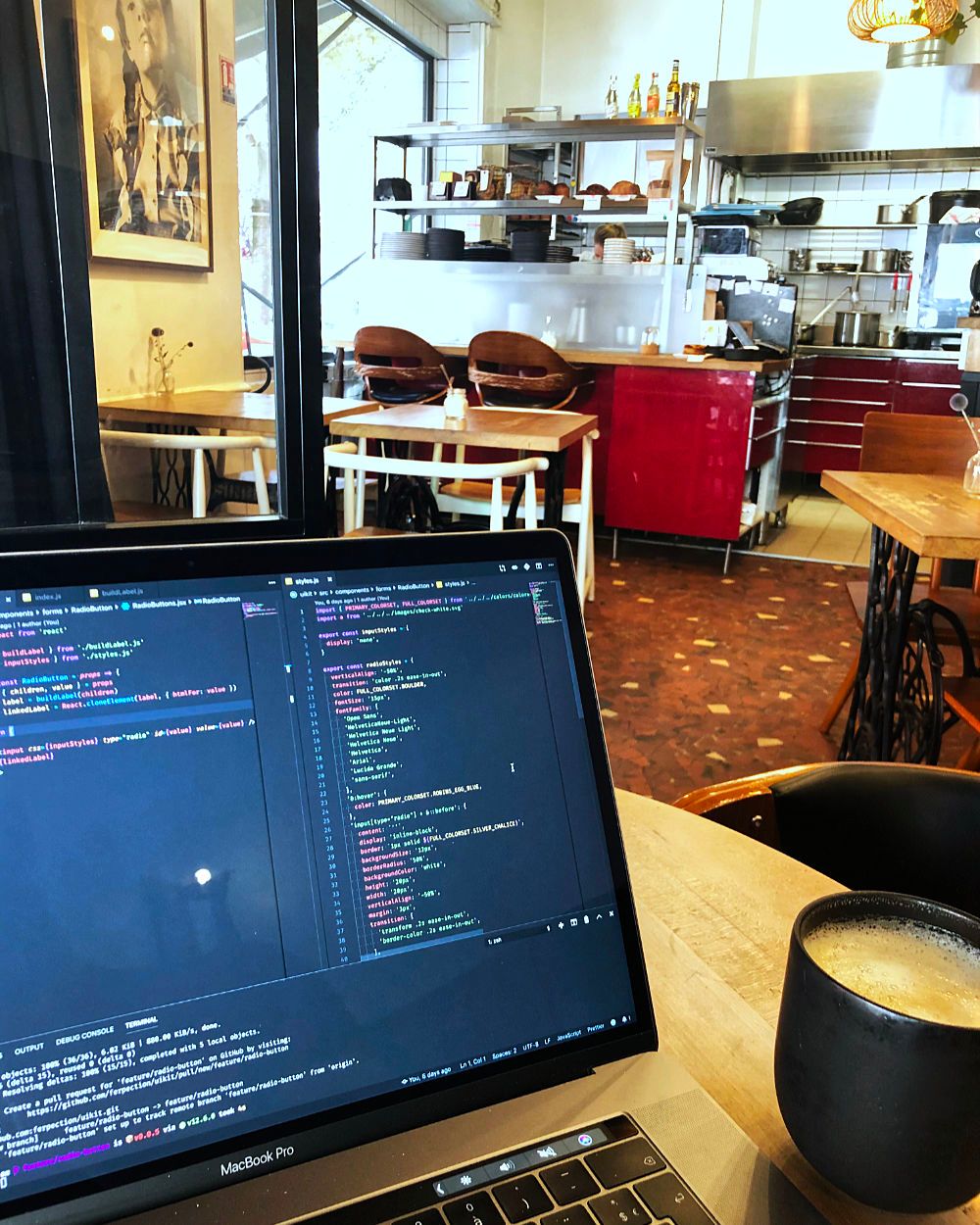 I would say I was able to work in decent conditions but a few things were missing.
There was enough space on the table for Macbook Pro15" + my phone + my drink + my plate. It was not too cold and not too hot. The windows are very big so it is very bright and your eyes are constantly willing to take a look outside (it is pleasing for your eyes' health).
It was also rather quiet. Enough for me to be able to work properly and to focus on a precise task. There are conversations, a few disruptions, life but it is still quiet enough for everybody to work. This is what I'm looking for as a remote worker. If you go work in a coffeeshop that is usually to be surrounded by people instead of staying home alone. So that's perfect.
One down side was that I had to use my iPhone 4G because the WIFI is not available for clients at Le Kitchen Café. By chance, the signal is very good.
Second down side for workers : there is only one single electricity outlet available for clients. It didn't particularly bothered me on that special day because my battery was fully charged. At noon, I still had 62% left. I could've worked there all day I guess without needing to charge my Macbook but if I had not been fully charged, I would've had to go home and that woul'dve been sad.
---
I really like that place for work as well as for the food served. The Kitchen Café really has some valuable assets. But, there are a few important details that are left behind for the experience to be 100% perfect : namely the electricity outlets.
If you have a good battery, don't hesitate and go!
Join 250+ developers and get notified every month about new content on the blog.
No spam ever. Unsubscribe in a single click at any time.
If you have any questions or advices, please create a comment below! I'll be really glad to read you. Also if you like this post, don't forget to share it with your friends. It helps a lot!