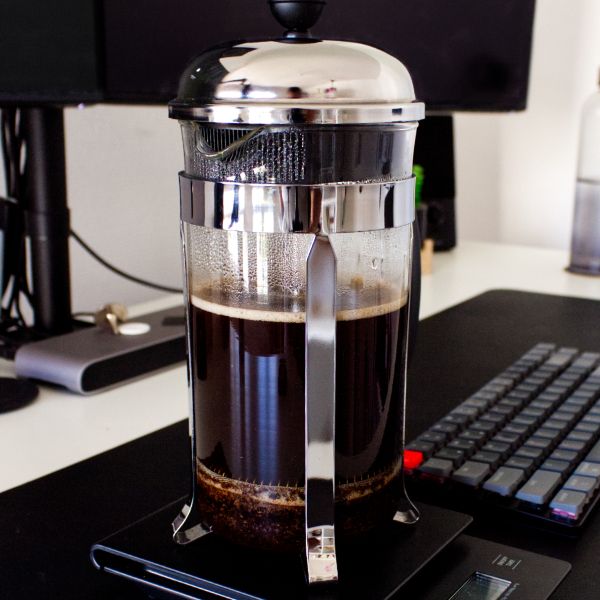 How to make a good cup of coffee using a French press
During my full remote workdays, I find the coffee breaks to be crucial. It always changes in methods and technics, but I wanted to share with you one of my favorite recipes. Furthermore, one of the simplest.
This post is free for all to read thanks to the investment Mindsers Club members have made in our independent publication. If this work is meaningful to you, I invite you to join the club today.
On Mindsers Blog, we talk about code and good practices, but we also talk about business, remote life and must try coffee shops. Today, I won't be taking you to a coffee shop, but we'll be talking about coffee anyway. French press coffee to be perfectly exact.
Since I've been working at home full time, I've tried putting more effort into having better, more mindful breaks from work.
I know that when I'm completely focused on my code, it's hard for me to stop to take a break. It's like being in a tunnel, I don't see time flying by. When you work from home, there are no coworkers in sight to drag you to get a cup of coffee. No distraction. So, I decided my brain deserves real breaks, too.  
I don't take many breaks during the day, but when I do, I try to make it nice. I give my brain a good amount of time to think about something else than work. And I also take time to make myself a good cup of coffee, really enjoying it…etc.
It might sound like nothing, but this kind of breaks allows me to re-focus on my work after I'm done. It really ups my productivity.
I have no coffee machine at home at the moment, so I bought a few accessories. In the post, I'll tell you all about my French press.
Prerequisite
What I use and what you'll need :
The links will show you products I recommend, but please don't hesitate to use whatever you want or have on hand!
Recipe for French Press coffee
Here is my recipe. This is the one I use where the coffee aroma is the best, really helps me relax from my daily tasks.
Heat the water between 90º and 95º C. I recommend heating more water than you actually need, it will help keep the water warm throughout the whole process.
On your scale, weigh 20 g of coffee beans.
Grind the coffee coarsely. Why a ceramic burrs grinder? Because it will help you achieve a more regular grind. It's also better for coffee extraction.
Put the French Press on the scale with the ground coffee inside and tare it.
To pre-infuse the coffee, pour 20 ml of water on the coffee and tare the scale. Start the timer and pour 20 more ml of water on the coffee. Stir with a wooden spoon and wait.
When the timer hits 30 seconds, pour the remaining water. You can pour the water until the scale displays 360 ml.
Put the lid back on the French Press to trap the heat inside, but don't press it yet.
When the timer hits 5 minutes, press slowly and serve immediately.
There is a lot of coffee recipes on the internet. They all seem to be different. That's because you really have to test the recipe, try it several times, change it until you find the recipe you love.
You can also change the extraction method until you find one you love: Chemex, V60, manual Espresso, etc. I choose mine depending on the time of the day.
Join 250+ developers and get notified every month about new content on the blog.
No spam ever. Unsubscribe in a single click at any time.
If you have any questions or advices, please create a comment below! I'll be really glad to read you. Also if you like this post, don't forget to share it with your friends. It helps a lot!